The Foundation for European Initiatives (TFEI) was established in 1998 and has three major functions:

(1) develop, coordinate, manage and administer European and International PROJECTS to enable organisations to work together as partners in the promotion of European initiatives;

(2) develop its own ACTIVITIES, particularly in the area of ICT and disability and development of specialised e-learning products; and

(3) CAPACITY BUILDING - assist NGOS to build their capacity by offering NGOs, and their staff, access to a range of products and services including fundraising.

Details of some of the EU Projects that have been supported by The Foundation can be found on this site.

Our most popular service is our "EU Project Compliance Service" that offers support with the administration and coordination of your EU funded project to ensure its smooth implementation.
Launch of new Euro-Caribbean initiative
Latest News ..................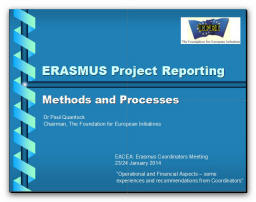 Click the screen-shot to download in pdf format
The Foundation has developed a new "ERASMUS+ Support Service" that can assist you to prepare and implement your ERASMUS+ projects. With over 40 years of experience of running and managing EU Projects our team of highly specialised experts, can assist your organisation to develop, manage and implement the required Work Packages for the new ERASMUS+ Programme.

The Foundation has developed a FREE Emotional Intelligence Training Course (developed with EU funding).


The Foundation has signed a reseller agreement with A.D.A.M. Education to market their world renowned health education solutions.


The Foundation has created a joint venture programme with European Consultancy Services to assist organisations to find Partners for their EU funded Projects.